A visit to a bridal shower is today's Friday field trip.  I am sharing some of the decorations I created for a beach themed bridal shower, hoping it may provide inspiration for some of your own party planning.
The first impression for any party is created by the invitation.  So, for this party we needed something really 'beachy.'  What better than a message in a bottle for an invite?!  I created the message on my home computer and printed out copies on a color printer.  The messages were rolled and inserted into glass bottles and mailed off in boxes the size of the bottles (with a little extra room to protect them with some bubble wrap).
Not only does the invitation create the mood, but gives guests the opportunity to wrap their gifts in the theme and also to dress the part!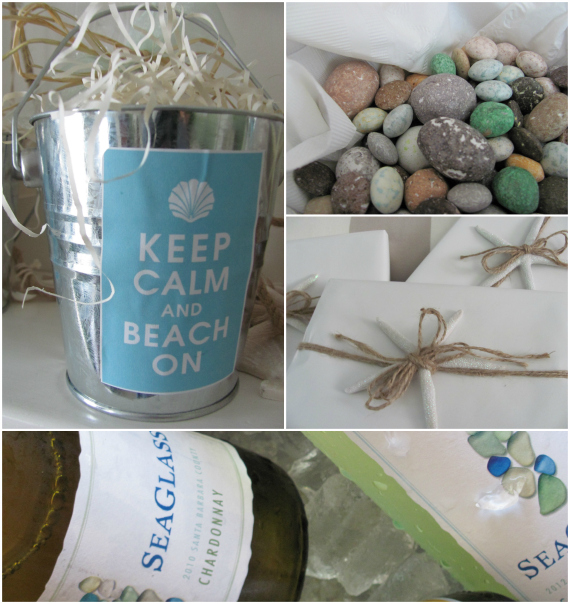 Welcoming guests into the party also creates a great opportunity to set the mood.  I used a skim board chalkboard with the future couple's initials at the entryway to welcome guests to the party.  And, don't forget that summertime playlist…Beach Boys and Jimmy Buffett need to be included!
The labels for the takeaway favors were also created on a home computer and printed on label sheets using a color printer.  Inside each 'beach pail' were some realistic looking candy rocks, salt water taffy, and homemade decorated sugar cookies cut in the shapes of shells and fish.
Beach themed wines or frozen drinks are great for a beach themed party, but for a bridal shower, including the future bride's favorite drink is a must!  All the fixings for this guest of honor's favorite were included at the drink bar.
This shower was held at the future groom's parent's house.  'Beachy' photos of the future groom as a child were collected and printed out in black and white on a home copier.  I ripped the photos rather than cutting them to create a ragged edge.  The photos were used in old jars and placed down the center of the tables.
I used a burlap runner down each table and decorated with old jars, lanterns, twine, raffia, shells, sea glass, driftwood, and rocks to set the mood.
Some of the jars were filled with sea glass and water to fill with daisies…always a great symbol of summer.
The same decor was carried through to decorate the bathrooms and the area where everyone gathered to watch the future bride open gifts – where a large white washed anchor set the tone.
"Beachyness" was included in every detail.  The dessert bar included cupcakes topped with graham cracker crumb 'sand' and garnished with variegated chocolate shells, seahorses, and starfish that were made by the future groom's mom.
Those are some of the decorations…I didn't have enough space to show you every detail, but feel free to send me an email if you are having a beach themed party of your own and I would be happy to give you some more 'beachy' ideas ;)  I hope you enjoyed today's Friday field trip to check out the decorations at a beach themed bridal shower.
Thank you so much for visiting.  Please be sure to click 'like' on my facebook page so you won't miss any of my beach photos this summer.  Have a wonderful weekend!!
Sending saltwater kisses, Jackie
Sharing at The Shabby Nest, Craftberry Bush, and The Tablescaper.